Top 3 Decks: 16th PokemonCardMemo Cup
Please find the original Japanese-language article

here.

Note my translation is not a perfect translation and I have rearranged and reworded some parts of the original article for clarity and readability.

I have included external links to Bulbapedia for new cards. Find also some explanatory comments inside square brackets, italicised.
The Pokemon Card Memo Cup was held on the 11th of February. The top results were as follows:
1st Place: Rugi (Pikachu & Zekrom)
2nd Place: Makoto (Lycanroc Zoroark)
3rd Place: Last (Pikachu & Zekrom)
We will be discussing these three decks today.
[Note: This is an unofficial Pokemon tournament (similar to ARG events) so players played BO3 50 minute rounds with ties. The format for this tournament was SM1-SM9b.]
Winner (Pikachu & Zekrom)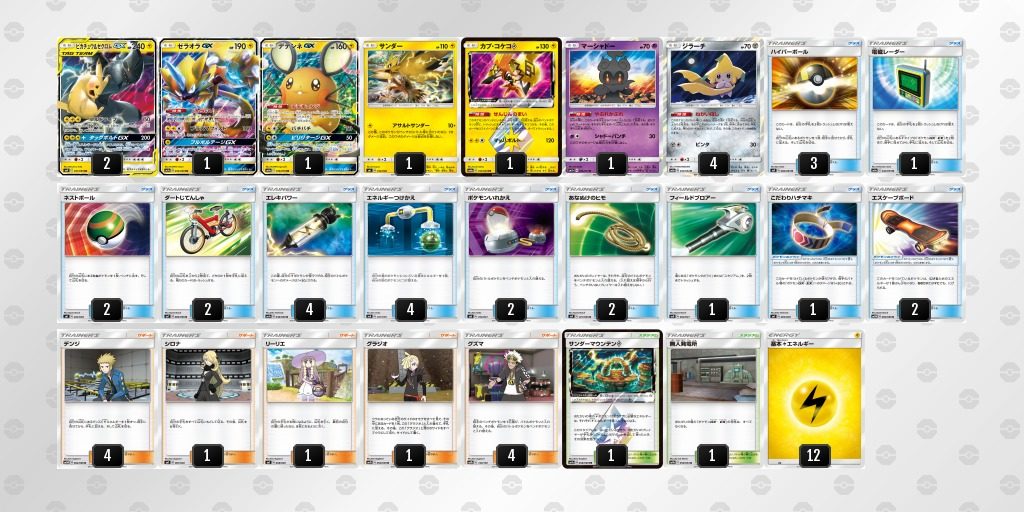 | | | |
| --- | --- | --- |
| | | |
| | 1 Thunder Mountain Prism Star | |
This is Rugi's winning Pikachu Zekrom list. It's defining characteristic is the fact that it runs 4 Jirachi. He has cut down to the very minimum number of attackers, and in total has 11 Basic Pokemon. With these numbers, we have over 50% of chance of starting Jirachi. With two copies of Switch, Escape Rope and Escape Board apiece, we have a multitude of ways to switch into our attackers. With Stellar Wish and Volkner, we can retrieve the exact pieces we need to get our attacks off.
Rugi's tournament was as follows:
Runner Up (Lycanroc Zoroark)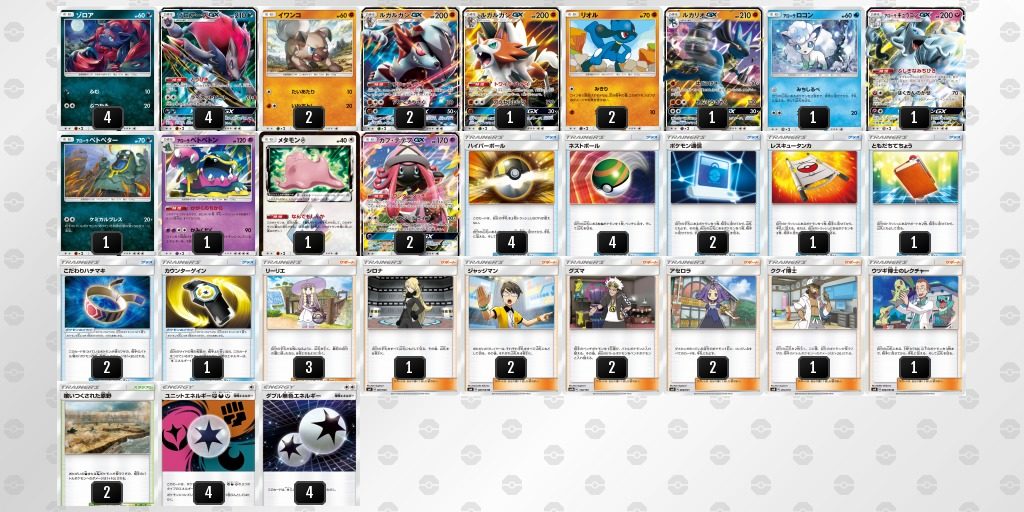 | | | |
| --- | --- | --- |
| | | |
| | 1 Professor Elm's Lecture | |
Makoto placed third in the December PokemonCardMemo Cup, and this time he has also performed very well with the same deck, finishing in second place.
This deck runs many Pokemon. In addition to Zoroark and Midnight Lycanroc, there are various evolution Pokemon such as Dusk Lycanroc GX, Alolan Ninetales GX, Lucario GX and Alolan Muk. Lucario GX performs very well against Pikachu & Zekrom, and has been a heavily discussed Pokemon at City Leagues. With a total of 10 Pokemon searching cards (Balls and Pokemon Communication) we aim to set up various Pokemon to win the match.
Makoto's tournament was as follows:
Third Place Pikachu & Zekrom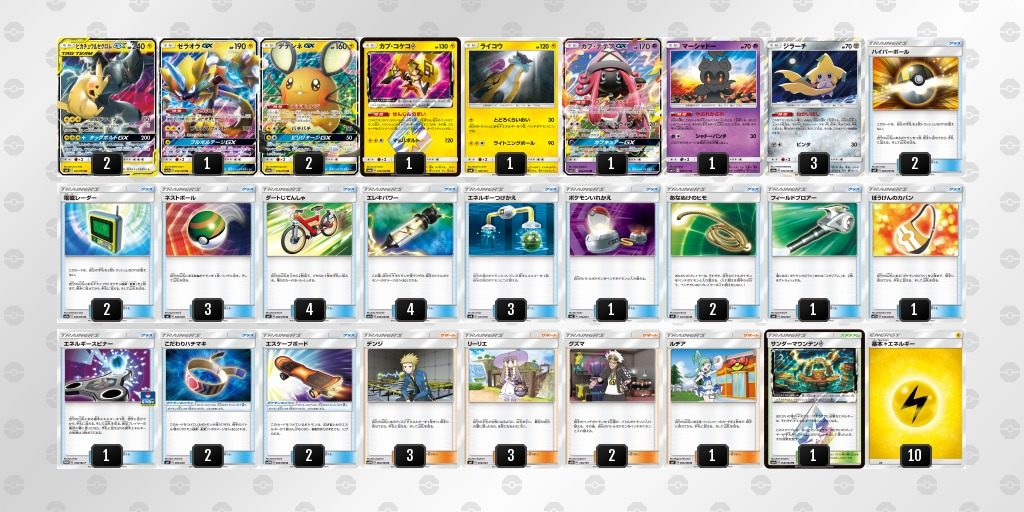 | | | |
| --- | --- | --- |
| | | |
| | 1 Thunder Mountain Prism Star | |
The third place deck list runs a very similar build to Rugi's winning Pikachu & Zekrom deck list, focussing on Jirachi and Volkner. Since Tapu Lele GX and Lisia are also included, it is much easier to get Full Blitz off on turn one. Raikou was included to counter opposing Zapdos, as Zapdos Jirachi decks were increasing in popularity.
Last's tournament was as follows:
That concludes our discussion of the top decks. We wish you all luck in the Champions League!
Please find the original Japanese-language article
here
.